Theresa May fears outcome will be 'a paralysis in parliament that risks there being no Brexit'
Comments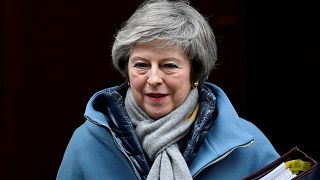 Copyright

REUTERS/Toby Melville/File Photo
British Prime Minister Theresa May warned of a no Brexit scenario if her deal is rejected in parliament tomorrow.
The warning was issued in a speech at a Stoke-on-Trent pottery factory on Monday.
"I've argued that the consequences of parliament rejecting it would be grave uncertainty leading to one of two outcomes: either a no-deal Brexit that would cause turbulence for our economy [...] or the risk of no Brexit at all," she said.
May said that after observing events in Westminster over the past week, she fears that the more likely outcome is "a paralysis in parliament that risks there being no Brexit."
With this risk at hand, May noted how important it was for parliament to vote for the deal she's already negotiated with the European Union.
Otherwise, a no Brexit scenario would be a "subversion of the democratic process," she said.
The deal struck between May's government and the EU will finally be put to the vote in the House of Commons Tuesday, after being postponed more than a month ago. Parliamentary approval is needed for it to be implemented.
If the deal fails to pass this parliamentary hurdle, the path ahead is shrouded in uncertainty.
May also mentioned letters she exchanged with EU leaders that are meant to reassure lawmakers on her withdrawal agreement.
The Prime Minister in her speech that she discussed with the EU how the controversial backstop would operate and for how long.
"If the backstop were nevertheless to be triggered, it would only apply temporarily, unless and until it is superseded by a subsequent agreement that ensures that a hard border is avoided," Donald Tusk said in the EU letter.
Asked whether she would agree to extend Britain's deadline to leave the EU to July, May said she does not think that Article 50 should be extended and that the UK should leave the EU on March 29 as planned.
Read: What is in Theresa May's Brexit deal and why is it so unpopular?