Partner of UK minister sends 'inappropriate' message over Brexit vote
Comments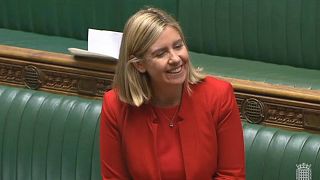 A UK minister revealed an "inappropriate" text message she received from the partner of a fellow minister on Monday, warning her against voting to reject Prime Minister Theresa May's Brexit deal.
Conservative MP Andrea Jenkyns tweeted a screenshot of the message she received, in which the unidentified sender vowed to "never forgive" her.
"Hi Andrea. Please think carefully before you vote this week," the message begins. "If the deal is voted down and you hand control to a Parliament desperate to stop it, I for one shall never forgive you."
"Brexit is the most important opportunity that has ever been presented to our country. If you screw it up, history will not be kind."
Jenkyns was not impressed by the message, saying she found it "inappropriate" that the "government [is] getting their loved ones to do their dirty work."
A fierce supporter of Brexit, Jenkyns expressed her lack of faith in May's deal and leadership in a Telegraph column in December.
Euronews has reached out to Jenkyns for further comment.
MPs are gearing up to vote on Tuesday over May's current Brexit deal negotiated with the European Union.
If the deal is rejected, May will have just three days to present her Brexit plan B, or the UK could stand to crash out of the EU on March 29 without a deal.
READ MORE: What could happen after MPs vote on the Brexit deal?