Thousands flood French streets in ninth week of 'gilets jaunes' protests
Comments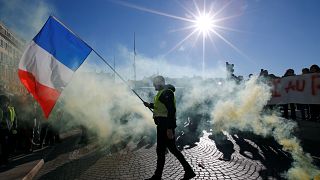 Paris police fired water cannons and tear gas to repel "gilets jaunes" or "yellow vests" protestors around the Arc de Triomphe as scuffles broke out between police and protesters.
Police placed a car ban on the nearby Champs-Élysées avenue to avoid further escalation of violence.
The street protests began peacefully in the French capital but degenerated later in the afternoon as protesters hurled missiles at riot police barricading bridges over the Seine river.
The Interior Ministry estimated that there were a maximum of about 84,000 demonstrators nationwide on Saturday - more than the 50,000 counted last week but well below the record 282,000 estimated on 17 November when the protests began, according to Reuters.
The ministry said more than 100 people have been arrested today in Paris and other French cities, including 82 who were in police custody.
French authorities deployed 80,000 security forces nationwide in preparation for a ninth straight weekend of anti-government demonstrations. 5,000 security forces were deployed in Paris alone.
Saturday marked "Act 9" or the ninth day of national action for the "gilets jaunes". The citizen movement was first created as a protest against a planned fuel tax rise but mutated into a crisis about inequality and spending power.
French Interior Minister Christophe Castaner warned peaceful protesters on Friday, that they would be "complicit" if they attend marches that turned violent.
Paris was not the only city where protestors were met with aggressive pushback. The movement's leadership is seeking new arenas and new momentum for its weekly demonstrations.
Saturday saw thousands of additional protesters marching in the cities of Marseille, Bourges, Nantes, Bordeaux, Toulon, Caen and Strasbourg, representing every area of the country.
The nationwide protest has focused its anger against high living costs and the perceived indifference of President Emmanuel Macron, whose government this week hardened its stance against the protestors.
Despite the hardened stance, the French government has struggled to contain the movement which has no leadership structure and is not affiliated to any political party or trade unions, making negotiations all but impossible.
Marseille
More than 700 kilometres south of Paris, protests grew ugly as French riot police advanced through clouds of tear gas during a yellow vest demonstration in Marseille.
Bourges
The central French city of Bourges had forbidden "gilets jaunes" protesters from marching in its city centre after one of the movement's leading figures called for action to be held there.
Priscilla Ludosky, one of the movement's most prominent figures, called for Bourges to become the epicentre of the protest and encouraged demonstrators throughout the country to travel to Bourges.
Ludosky argued the city of 68,000 inhabitants is an ideal meeting point because its location, in the centre of the country, makes it easier for people to reach.
Many protestors listened to Ludosky as thousands showed up on Saturday to march in Bourge.
French police fired tear gas as yellow vest demonstrators fought through barricades in picturesque streets of Bourges, however, the majority of the Bourges' protesters walked peacefully on the town's wide avenues, according to AP.
Nantes
Strasbourg
Caen
Rouen
Bordeaux