Gilets Jaunes protests enter tenth weekend across France
Comments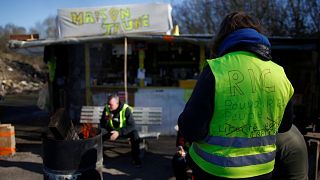 -
Copyright

REUTERS/Stephane Mahe
Gilets Jaunes (Yellow Vest) protesters gathered across France today for a tenth weekend of national action.
The demonstrations took place despite a PR blitz by French President Emmanuel Macron to derail the movement through the launch of his "Great National Debate."
The main protest was in Paris, where several thousand people, many waving placards calling for Macron to resign or condemning police violence, marched peacefully through the Left Bank, according to AFP.
They chanted "Parisians, rise up!" as they urged residents of the capital to join the movement.
Demonstrations also took place in other cities, with clashes reported in the western city of Rennes and eastern city of Lyon.
The interior ministry estimated the number of protesters at 27,000 by this afternoon -- with 7,000 in the capital.
80,000 police officers
Some 80,000 police officers were deployed to keep the peace today, as confirmed in a Europe 1 interview on Friday by Interior Minister Christophe Castaner.
He also categorically rejected calls for police to stop using riot control guns, criticised by protesters and the country's human rights right, Jacques Toubon, as a disproportionate response.
One protester lost an eye, another went into a coma, while others ended up with fractured jaws after being shot with a LBD40, a weapon described as non-lethal, which projects 40-mm semi-rigid rubber balls.
Great National Debate
Macron, who has been heavily criticised in the past for his response to the movement has this week put in repeated appearances to defend his Great National Debate, holding hours-long town hall meetings with mayors.
The project aims for hundreds of such meetings to be held across the country in the next two months to allow citizens to voice their concerns, in a move aimed at appeasing the Gilets Jaunes movement.
The movement, which takes its name from the high-visibility jackets French citizens must have in their cars, was initially launched to protest the government's planned increase on fuel taxes. It then quickly mutated into a crisis over inequality and purchasing power.
Because it lacks a leadership structure and is not affiliated with any political parties or trade unions, negotiations with the government have been near impossible.
But Macron's latest initiative got off to a rocky start on Tuesday when he accused some people of "mucking about" and said "too many" French people believe "one can get something without any effort."
Attacks on journalists
Meanwhile, journalists have accused Gilets Jaunes protesters of deliberately targeting them.
Reporters Without Borders, a press freedom NGO, denounced the violence in a petition.
"Since mid-November 2018, the Gilets Jaunes mobilisation has led to multiple attacks against journalists (...) both from protesters and members of police forces," it said.
"Criticism of the press is legitimate but no anger can justify violence against journalists, who themselves face difficult working conditions.
"We are calling for a citizen mobilisation to end the violence against journalists. Citizens have the right to protest, journalists to inform, for the benefit of us all," it added.