French media denounce 'yellow vest' attacks on journalists
Comments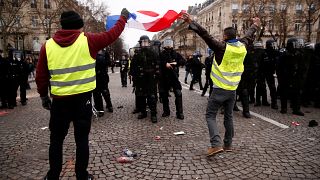 A number of journalists were targeted in the latest 'Gilets Jaunes' (yellow vest) protests across France on Saturday.
Around 84,000 anti-government protesters marched across France in the ninth-straight weekend of rallies against President Emmanuel Macron's economic reforms.
In Paris, police fired tear gas and water cannon on Saturday to repel demonstrators around the Arc de Triomphe as scuffles broke out between police and protesters.
Journalists are also increasingly becoming a target.
In Rouen, in the north of France, LCI television reporters were attacked by a group of protesters.
One of the security agents working with the TV crew was beaten while he was on the ground and suffered a broken nose.
Footage was captured by Paris Normandie which has been widely shared on social media.
LCI station said another one of their reporters was pushed to the ground as protesters tried to take away his camera.
It has said it will take legal action against the attackers.
Several other media outlets such as BFM TV and Franceinfo, also showed images of journalists being pushed around.
While a reporter for the local newspaper La Depeche du Midi was threatened by yellow vest protesters in Toulouse who told her "we'll take you out of your car and rape you", according to the paper's editor Lionel Laparade in a Tweet.
He said the journalist was able to escape after being helped by two other demonstrators.
Reporters without Borders Secretary-General Christophe Deloire has called on authorities to take action.
"This is anti-democratic blackmail from people who consider they can beat up journalists if they disagree with the way events are covered," he told France Info radio.
Meanwhile, France's Interior Minister condemned the attacks on journalists in a Tweet.
He wrote: "In our democracy, the press is free ... attacking journalists is attacking the right to inform," adding that anyone attacking reporters will be brought to justice.
Who are the yellow vests?
Started as a protest movement against a rise in fuel prices, it has since morphed into a fight for social justice and against Macron's reforms that favour the elite. 
Demonstrations have been ongoing since mid-November and have seen violent clashes with police. 
Yet, the group has no designated leader and is not linked to any political party or union. 
Macron will launch three months of national debate on Wednesday to try and appease the movement. The topics that will be discussed include democracy. However, according to a Le Figaro survey on Friday, 70% of people think the 'grand national debate' will not help the country.