Raw Politics in full: Orban backs anti-EU alliance and Corbyn's election call
Comments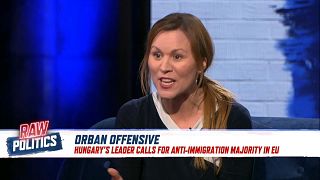 Here are the key stories discussed on Euronews' Raw Politics on Thursday:
Hungary PM calls for anti-immigration EU
Hungarian Prime Minister Viktor Orban held his first press conference of 2019 this afternoon and set out his ambition for an anti-immigration EU while praising Italy's interior minister Matteo Salvini as his 'hero'.
EU and Malta strike deal on migrants
After a four-week deadlock, the EU and Malta finally reached a deal to relocate 49 migrants who were aboard a German NGO ship at sea.
Germany and France will take the majority while Portugal, Ireland, Romania, Luxembourg, the Netherlands and Italy will take between 5 and 20 each.
Labour leader calls for a general election to end Brexit deadlock
Labour leader Jeremy Corbyn has called for a general election as the date to vote on the Brexit deal inches closer.
"Any political leader who wants to bring this country together cannot wish away the votes of 17 million people who wanted to leave [the EU] any more than they can ignore the concerns of the 16 million who voted to remain," he said.