Big Maple Leaf: Four men go on trial accused of stealing huge gold coin from Bode Museum, Berlin
Comments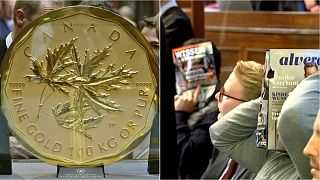 A quartet has gone on trial accused of stealing a huge €3.75 million gold coin from a flagship German museum.
Three of the suspects broke into Berlin's Bode Museum through an upstairs window and used a ladder, wheelbarrow and rope to extract the coin from the bulletproof glass, prosecutors say. A fourth suspect was a guard at the museum and stands accused of helping them.
The nighttime theft, which took place in March 2017, saw the disappearance of a coin once recognised as one of the largest in the world.
Called "Big Maple Leaf" and engraved with the picture of Queen Elizabeth II, it was one of just six produced by the Royal Canadian Mint in 2007. It was loaned to the museum by a private owner.
Police suspect the coin was melted down and sold.
Lawyers for the defendants — who hid their faces behind magazines at Thursday's trial — said police had no proof of their clients' involvement in the raid.