Romania working on granting amnesty to politicians imprisoned for corruption
Comments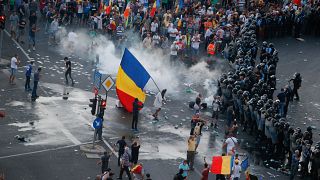 Romania may be close to granting amnesty to politicians who have been imprisoned for corruption — a move that could rekindle protests against decriminalising corrupt acts.
This is not the first time that the Romanian ruling party, the Social Democrats (PSD) has tried to decriminalise some corruption offences, including abuse of office, defined as officials not doing their jobs properly and causing damage.
The ruling leftist Social Democrats' leader Liviu Dragnea, who was involved in a corruption case himself, has been a die-hard supporter of the law changes. The Social Democrats saw elements of the anti-corruption crackdown as a witch hunt.
In January 2017, tens of thousands of Romanians gathered on the streets of Bucharest to protest government plans to decriminalise some misconduct offences and pardon convicts through emergency decrees. These were the largest demonstrations in the country since 1989.
Under the proposals, anyone with a sentence shorter than five years for certain crimes would have been granted amnesty — a move considered a blow to Romania's fight against corruption.
Another element being discussed in relation to this issue are the calls from various international organisations for Romania to take steps to stop overcrowding in the country's prisons. 
The government also intended to decriminalise official misconduct that had financial damage valued at less than €41,419.
The plans have been widely criticised by President Klaus Iohannis, by the prosecutor general, the chief anti-corruption prosecutor, and civil rights groups.
The European Commission had also condemned the move.
Read: Europe's corruption watchdog 'deeply concerned' over Romania reforms.