Fairytale castle project turns to nightmare as Turkish economy slumps
Comments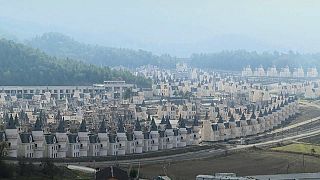 Deep in a provincial region of northwestern Turkey, it looks like a mirage: hundreds of luxury houses built in neat rows, their pointed towers somewhere between French chateaux and Disney castle.
Meant to provide luxurious accommodation for foreign buyers, the houses are however standing empty in what is anything but a fairytale for their investors.
The ambitious development has been hit by regional turmoil as well as the slump in the Turkish construction industry as the country's economy heads towards what could be a hard landing in an intensifying downturn.
After a long period of solid growth, Turkey's economy contracted by 1.1 percent in the third quarter, and many economists expect it will enter into recession later this year.
The country has been hit by high inflation and a currency crisis in August.
The lira lost 28 percent of its value against the dollar in 2018 and markets are still unconvinced by the readiness of the government under President Recep Tayyip Erdogan to tackle underlying economic issues.