Prehistoric deer found in Argentina dig
Comments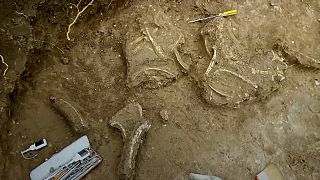 Paleontologists near Buenos Aires, Argentina have unearthed the fossil of a prehistoric deer.
The remains have been remarkably well preserved but are yet to be dated.
The species is thought to come from the Pleistocene era, from 2.5 million years BC to 11,000 BC.
Sales tick up every year ahead of and during the Tet lunar new year in February, when throngs of people crowd into temples to light incense during worship, or burn the sticks on the ancestral altar at home.