California's new governor gets help from young son at inauguration speech
Comments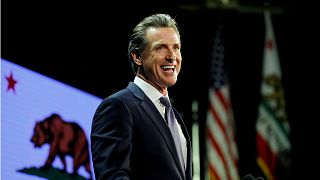 California's new governor enlisted help from an unlikely source for his inauguration speech on Monday.
Democrat Gavin Newsom picked up his son mid-speech, in which he spoke against President Donald Trump's anti-immigration policies and their affect on children.
"All kids, not just a son of a governor and a filmmaker, should have a good life in California," Newsom said as his son leaned on his shoulder.
"They shouldn't be ripped away from their parents at the border. And nor should they be left hungry. Nor should they be left hungry when politicians seek to pour billions into a wall that should never be built."
Watch footage from Newsom's inauguration speech by clicking the player above.