UN says Saudi woman in Thailand is refugee, refers her to Australia for resettlement
Comments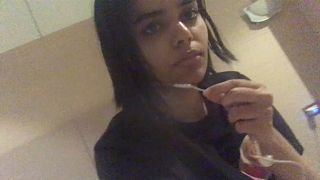 A Saudi woman who fled her family and barricaded herself in an airport hotel room to prevent Thai authorities from expelling her has been declared a legitimate refugee by the United Nations.
UN officials have asked Australia to consider refugee resettlement for Rahaf Mohammed al-Qunun, the Australian government said.
"The Department of Home Affairs will consider this referral in the usual way, as it does with all UNHCR referrals," said a spokesperson from the Department of Home Affairs.
UNHCR told Euronews it would not comment on the reports. 
Qunun, 18, is now staying in a Bangkok hotel and is under the protection of immigration officials.
She was allowed to leave the airport after talks with the UNHCR.
Human Rights Watch Deputy Asia Director Phil Robertson celebrated the news.
"Amazingly, Rahaf's original hope may come true after all now Canberra confirmed the UN has determined her to be a refugee and referred her to Australia for resettlement," he said.
"Just two days ago, she was barricaded in a hotel room fighting for her life — and now we see this wonderful and astonishing turn of events. What's important is get her safe so Australia really needs to move quickly to get her out of Thailand."
The 18-year-old was meant to take a flight back to Kuwait City, where her family is, on Monday morning. However, she barricaded herself to prevent being sent back. She took refuge in Bangkok's airport since Saturday after she was denied entry by Thai immigration officials.
Thai Immigration chief Surachate Hakparn said the Saudi embassy had alerted Thai authorities to the case and said that the woman had run away from her parents who feared for her safety.
Qunun told Reuters she fled Kuwait while her family was visiting the Gulf country and had planned to travel to Australia via Thailand to seek asylum.
Qunun has said she fears that if she goes back to her family they will kill her.
Robertson, who has been in contact with Qunun, told Euronews over the phone that the young woman had suffered "physical and psychological abuse from her family".
A tweet on the Saudi Foreign Ministry's official account denied allegations that its embassy had confiscated her passport.