Study finds 2018 was fourth warmest on record: EU's Copernicus
Comments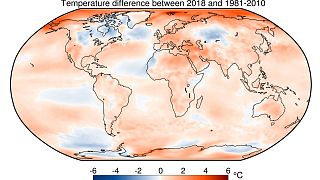 Copyright

Copernicus Climate Change Service (C3S)
Greenhouse gasses are on the rise, contributing to 2018 becoming the fourth warmest year on record.
A report by the European Union's Copernicus Climate Change Service showed last year was the hottest since the organisation began the study.
Average world surface air temperatures were 14.7°C last year, just 0.2°C off the highest record in 2016, scientists said in the first global assessment based on full-year data.
The report warned that the temperature of the last five years was 1.1°C higher than the average of the pre-industrial era.
"In 2018, we have again seen a very warm year, the fourth warmest on record," Jean-Noël Thépaut, head of the Copernicus Climate Change Service, said in a statement.
"Dramatic climatic events like the warm and dry summer in large parts of Europe or the increasing temperature around the Arctic regions are alarming signs to all of us," he added.
Last year, Europe was especially warm and saw many countries in the Northern Hemisphere experience a rare, summer heatwave. However, Capurnicus said temperatures on the continent were less than 0.1°C below those of the two warmest years on record, 2014 and 2015.
The study also warned that CO2 emissions, one of the key greenhouse gases causing the greenhouse effect, have continued to rise.
Last month, nearly 200 nations agreed to a "rule book" to govern the 2015 Paris climate agreement in Poland.
The 2015 Paris accord seeks to end the fossil fuel era this century by changing to cleaner energies, like wind and solar power.