Europe briefing: French cardinal on trial and Brexit vote nears
Comments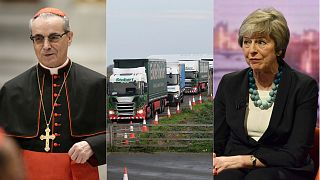 1. French cardinal on trial over silence in child abuse
French Cardinal Philippe Barbarin is set to go on trial on Monday, accused of failing to report a priest who allegedly abused boy scouts in the 1980s and 1990s.
Barbarin, the Archbishop of Lyon, is accused alongside five others from his diocese of helping to cover up abuse by Father Bernard Preynat, who allegedly abused more than 70 boy scouts.
2. UK gears up for Brexit vote
British MPs returned to parliament on Monday, where they are set to debate Prime Minister Theresa May's withdrawal agreement.
Lawmakers will vote on the proposed Brexit deal on Tuesday, January 15, according to Westminster sources. 
May was forced to pull the vote on her deal in December after she said it would be defeated by a large majority.
May said on Sunday that the UK would be in "uncharted territory" if her Brexit deal is rejected by parliament.
3. Paris marks fourth anniversary of Charlie Hebdo attacks
Paris on Monday marked the fourth anniversary of the attack on satirical newspaper Charlie Hebdo.
Two French jihadists linked to al-Qaeda killed 11 people at Charlie Hebdo's offices in 2015.
Victims' relatives were joined by French Interior Minister Christophe Castaner and Paris Mayor Anne Hidalgo at a commemoration service.
4. Pope calls for solidarity in Europe over stranded migrants
The Pope has urged European leaders to end a diplomatic standoff over the fate of 49 migrants stranded on rescue ships in the Mediterranean.
Speaking during his Epiphany address, the Pope said the migrants needed a safe port.
Both Italy and Malta have already refused to allow the rescue ships to dock.
Watch the video below for analysis from Euronews' Alasdair Sandford on how significant the Pope's intervention is.
5. Trucks head to Dover en masse in 'no-deal' Brexit rehearsal
Dozens of trucks gathered on Monday for a trip towards Dover — the UK's most important trading gateway to continental Europe — as part of rehearsals for how the roads will cope if there is a "no-deal" Brexit.
At Manston airport in Kent, which could be used as an area for parking if there is gridlock at the port of Dover, 87 trucks were lined up, the Department for Transport said on Monday.
They will drive down the motorway to Dover to see if they clog up the road network.
6. Germany's interior minister meets cyber defence chiefs after hack attack
German Interior Minister Horst Seehofer was set to meet with cyber defence chiefs on Monday after hackers published personal data and documents from hundreds of German politicians and public figures.
A preliminary analysis showed the data had been obtained through "wrongful use of log-in information for cloud services, email accounts or social networks", Seehofer said in a statement late on Friday.
Euronews' Emmanuelle Chaze has the latest on this story.
7. Denmark proposes business hub on nine new islands near Copenhagen
Denmark has proposed constructing nine islands in the sea south of Copenhagen to create more space for businesses.
The islands could be fully functional by 2040 and the government expects them to attract up to 380 new businesses, creating 12,000 jobs, a spokesman for the business ministry said on Monday.
8. 'Gilets jaunes' protests continue in France
France's 'gilets jaunes' (yellow vests) protesters returned to the streets for the eighth consecutive weekend.
The anti-government protesters on Saturday used a forklift truck to force their way into a government ministry compound, torched cars near the Champs Elysees and in one violent skirmish on a bridge over the Seine punched and kicked riot police officers to the ground.
On Sunday evening, Macron wrote on Twitter: "Once again, the Republic was attacked with extreme violence - its guardians, its representatives, its symbols."
Euronews' Stefan de Vries spoke to Good Morning Europe about the latest developments.
You can follow our live blog from 6am-12pm CET every weekday below: