Endangered blue fin tuna gets record price at Tokyo fish market
Comments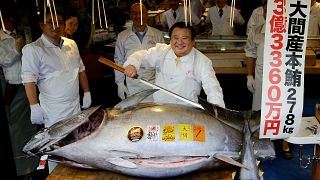 Copyright

REUTERS/Kim Kyung-Hoon
A Japanese tuna tycoon has paid a record price for an enormous 278 kilogramme blue fin tuna at the first auction of the new year.
The tuna sold to Kiyoshi Kimura at Tokyo's new fish market for a record two point seven million euros - more than double the previous record.
The Japanese eat more blue fin tuna than any other nation, and it's a key ingredient in sushi.
Blue fin tuna can live up to 40 years and are made for speed which helps them migrate thousands of kilometres across oceans.
But it's also an endangered species and stocks have declined by more than eighty percent since the 1970s.
Despite this Japan tried but failed to increase its fishing quota of the species by 15 percent last year.