Nazanin Zaghari-Ratcliffe to go on hunger strike in Iran jail
Comments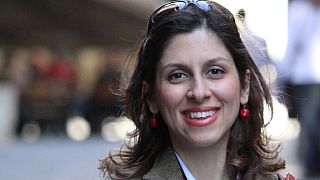 A British-Iranian woman who is serving a five-year jail sentence in Iran on espionage charges has said she will go on hunger strike.
Nazanin Zaghari-Ratcliffe is planning a three-day protest against being denied access to medical care after a range of health concerns.
Her husband Richard Ratcliffe says she has felt lumps in her breasts, pain in her neck, as well as numbness in her arms and legs.
He told the Guardian that medical treatment had been blocked, and a visit from an outside psychiatrist banned, despite the approval by a doctor at Tehran's Evin prison.
Zaghari-Ratcliffe plans to stage the hunger strike with a human rights activist who is also in jail. Narges Mohammadi, who has been charged several times and is serving a 16-year sentence, also suffers from health problems.
"In protest to this illegal, inhuman and unlawful behaviour, and to express our concerns for our health and survival at this denial of specialist treatment, despite taking daily medicines, we will go on hunger strike from 14.01.2019 to 16.01.2019," their joint letter states.
"We announce that in the event of the authority's failure to address these concerns and them further endangering our health, we will take further action."
Richard Ratcliffe has said he wants to meet again with the British Foreign Secretary Jeremy Hunt, as well as the UK ambassador to Tehran and the Iranian ambassador to London.
Hunt – who went to Tehran in November in a failed attempt to secure Zaghari-Ratcliffe's release – recently accused Iran of locking up innocent people for diplomatic leverage.
Nazanin Zaghari-Ratcliffe was detained at Tehran airport in April 2016 and later found guilty of spying, despite strongly denying the charges and insisting she was on a family visit.
Her daughter Gabriella, now four years old, is being looked after by relatives in Iran.