Protests erupt after two women make landmark step in Indian temple
Comments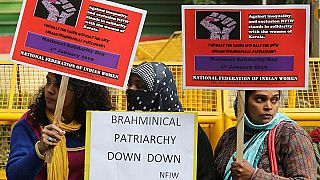 Two women made history on Wednesday after setting foot inside one of India's holiest temples that long restricted women of menstruating age from entering.
The women, both in their 40s, entered the Sabarimala temple, located in the southern state of Kerala, just before dawn with police security by their side.
The women's actions provoked the ire of angry demonstrators who believed they were defiling the temple's shrine. Local media reported that the chief priest ordered the temple to close for a "purification" ritual after the women visited earlier today. Police fired tear gas and water cannons to disperse crowds on Wednesday.
In September, India's Supreme Court overturned a centuries-old ban on women and girls between ages 10 to 50 from entering the Sabarimala temple. However, the temple refused to abide by the court's ruling and subsequent attempts by women to visit it had been blocked by thousands of devotees supporting the ban.
Kerala state Chief Minister Pinarayi Vijayan said: "It is a fact that the women entered the shrine. Police are bound to offer protection to anyone wanting to worship at the shrine."
On January 1, tens of thousands of women in Kerala formed a 620-kilometre human chain to fight for gender quality and demanded women be allowed access to the temple.
The Supreme Court is to start hearing a legal challenge to its ruling on January 22.
Many Hindu groups as well as Prime Minister Narendra Modi's nationalist Bharatiya Janata Party fiercely oppose the court ruling. They argue that the court has ignored their belief that the deity Ayyappa was celibate.