Italy's Uffizi Gallery demands Germany return painting stolen by Nazis
Comments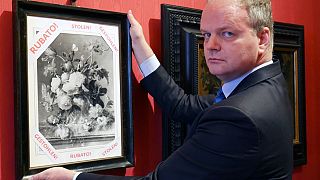 The Uffizi art galleries in Florence called on the German government on Tuesday to repatriate a painting stolen by Nazi troops during World War II.
"Vase of Flowers" was painted by Dutch master Jan van Huysum in 1722. It was exhibited in Florence's Pitti Palace from 1824 — when it was acquired by Grande Duke Leopoldo II — until its evacuation to a nearby village in 1940.
But it was stolen by Nazi troops in 1944 and then disappeared.
It resurfaced only upon German reunification in 1991 in the hands of a family, who according to the Uffizi, has demanded payment for its return. The German state has declined to intervene, stating that the statute of limitations for such crimes is 30 years.
"Germany has a moral duty to return this painting to our museum," Uffizi chief Eike Schmidt, himself a German national, said in a statement.
"Germany should not apply the statute of limitations to works of art stolen during the war.
"This story is preventing the wounds inflicted by World War II and the horrors of Nazism from healing," he added.
As a form of protest the gallery hung a black and white reproduction of the painting on Tuesday. The explanatory caption accompanying it reads "stolen" in Italian, English and German.
The article was amended as an earlier version erroneously stated that the painting had been stolen in 1943 instead of 1944.