Bolsonaro takes power in Brazil and proclaims 'liberation from socialism and political correctness'
Comments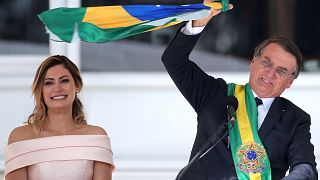 Brazil's new President Jair Bolsonaro has been sworn in and declared his country will be free from crime, socialism and political correctness.
Speaking from Brasilia, to a crowd of more than 100 thousand people, he promised to build a "society without discrimination or division".
The Brazilian leader - whose populist campaign, and rhetoric has been seen by many as racist, homophobic and mysoginistic - has the backing of many world leaders including American President Donald Trump.
Evelyn Laverick has the story. Watch her report in the video player above.