Egypt forces kill 40 suspect militants following bus blast
Comments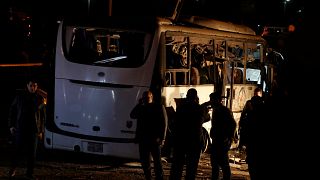 -
Egyptian security forces killed 40 suspected militants in three simultaneous incidents in the North Sinai and Giza areas, authorities said.
The ministry of interior did not confirm if those killed were connected to a bomb blast that killed four on Friday and gave no information about their identities.
Authorities added that 30 were killed at a hideout in Giza where "terrorist elements" were planning attacks on state institutions and the tourism industry.
A further 10 suspected militants were killed in North Sinai, an ongoing conflict area where Egypt is fighting an insurgency led by the Islamic State.
Three Vietnamese tourists and an Egyptian tour guide died and at least 10 others sustained injuries when a roadside bomb blast hit their bus on Friday.
The incident took place less than 2.5 miles (4 km) from the famous Giza pyramids.
Lan Le, 41, who was on the bus but unhurt said the tourists were on their way to a show.
"We were going to the sound and light show and then suddenly we heard a bomb. It was terrible, people screaming," she said. "I don't remember anything after."
No group has claimed responsibility for the attack.