Three British tourists dead in Iceland after their vehicle drove off a bridge
Comments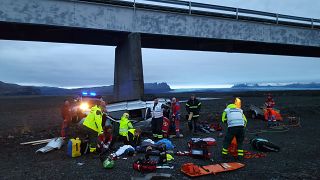 -
At least three British tourists died in Iceland when their vehicle drove off a bridge, local police told Euronews.
The travellers were in a seven-person Land Cruiser driving over the Núpsvötn stream on Thursday morning when the incident occurred.
Iceland's police service spokesperson Grímur Hergeirsson told Euronews one child was among the dead and two others, aged seven and nine, were injured.
The children were transported by helicopter to hospital in Reykjavik for treatment along with two adults who were also injured in the incident, South Iceland police wrote on Facebook.
Superintendent Sveinn Kristján Rúnarsson said in an earlier statement that two coast guard helicopters and local emergency services responded to the crash.
Spokesperson Grímur Hergeirsson told Euronews at least four of those involved are British citizens.
"At 9.42 am (10.42 CET) police and rescue teams were informed about a serious car accident on the bridge over Núpsvötn in southern Iceland," Hergeirsson said.
The Chief of Police in South Iceland was investigating the case, police confirmed.