Rio's Santa Claus school graduates celebrate with a beard trim
Comments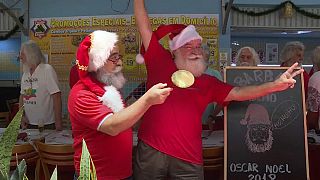 The Santa Claus school of Rio de Janeiro has been celebrating its 25th anniversary.
People from all over Brazil come here to learn the tricks of the Santa trade.
After the Christmas celebrations, they hold a meeting called "Barbas de molho" ("Beards at rest") to mark the end of their duties, cutting their beards and enjoying afterwards a meal of spaghetti Bolognese.