New group of migrants detained after crossing sea to England
Comments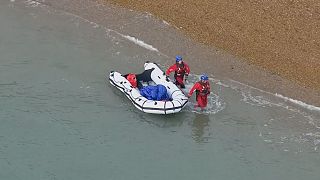 Another eight migrants have been detained after coming to southern England by sea, Britain's Home Office has told Euronews.
It takes the total number of arrivals since Christmas Day to at least 66.
The latest migrants — all Iranian adult men — were taken in after authorities identified a dinghy near Dover, Kent, at 8.45 am (9.45 CET) on Thursday.
"At around 0845 this morning, a RHIB was identified off the coast of Dover containing 8 Iranian migrants (all adult males)," the Home Office said.
It follows another incident earlier in the day when six Iranian migrants were detained on Shakespeare Beach in Dover at about 08:30.
And in the early hours, another nine Iranians were detained at around 12.30 am (1.30 CET).
They were intercepted by a lifeboat crew and taken in after their dinghy came ashore at Battery Point near Folkestone.
That group consisted of five men, one woman, two boys and a girl, authorities told Euronews.
They are "being processed in line with the immigration rules," the Home Office said.
The latest arrivals follow that of at least 43 migrants on Christmas Day and Boxing Day.
The UK's border force said it deployed resources to "deal with" numerous crossing incidents overnight and into the morning of December 25.
The authority connected the incidents with organised crime gangs.
"The number of incidents over recent days is deeply concerning. Some of this is clearly facilitated by organised crime groups while other attempts appear to be opportunistic," Immigration Minister Caroline Nokes told Euronews.
Nokes added the UK is in close contact with French authorities to tackle "criminality at the border".
"Attempting to cross the Channel in this way is extremely dangerous and they are putting their lives at risk," Nokes said.
"People should also be in no doubt that Border Force and the Police Aux Frontieres are working together 24 hours a day to prevent attempts, protect life and prosecute offenders."