Eco-designer turns mushrooms into lampshades
Comments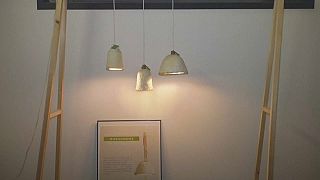 An eco-friendly Belgian company is turning to mushrooms as a replacement for traditional materials.
The Lumifungi project sees lampshades made from mushrooms grown from used coffee grounds.
Project designer Caroline Pultz says the mushroom-based material the lamps are made of has a very versatile nature; it can also be turned into flower pots, be used for packaging, acoustic insulation and even replace construction bricks.
"With this project we wanted to showcase how this material can replace things like plastic, wood and be an insulation tool, etcetera. Why a lampshade ? Because our goal was to let nature enter our homes interiors", Pultz explains.