Hundreds of rescued migrants spend Christmas at sea
Comments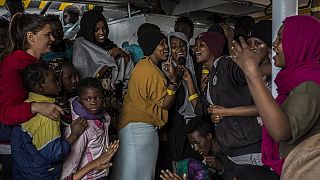 Rescued migrants en route to Spain have been keeping their Christmas spirits up amid likely difficult conditions at sea.
The charity Proactiva Open Arms saved 311 of them — including 139 children — off the coast of Libya on Saturday.
"We have a big speaker on board with a microphone," Gerard Canals, mission coordinator for the NGO, told Euronews.
"The passengers enjoy listening to music and singing songs, and because Christmas was so close, they asked for Christmas songs."
READ: Ten days at sea: the real story of the Aquarius
Euronews correspondent Anelise Borges said conditions on board were likely difficult with so many migrants on a relatively small rescue ship.
One of the biggest difficulties is the lack of space to cook. The charity says by the time the vessel is scheduled to reach port in Spain on Friday, over 4,000 meals will have been provided.
"We try and make simple foods because the passengers would get seasick if they eat certain foods now," says Canals.
On Monday, Open Arms received needed supplies such as food and blankets from another NGO boat, called Astral. Crewmembers of Open Arms must make supplies last until the vessel reaches Spanish shores, as passengers combat freezing temperatures at sea.
Do you like what Euronews does? Click to sign up for our WhatsApp newsletter, a twice-daily selection of the top stories from around Europe.