Eight dead after attacker hijacks bus in China, say police
Comments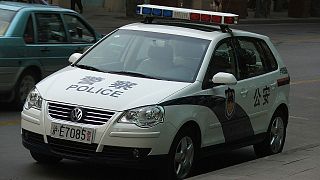 At least eight people have been killed and 22 injured after a knife-wielding man hijacked a bus in the Chinese city of Longyan on Tuesday, police said.
The incident happened at about 15:20 local time (08:20 CET) in Longyan, in the coastal province of Fujian, 420 kilometres east of Hong Kong.
Some of the victims were pedestrians hit by the bus as it careered down the street, police said in a statement.
Officers added the suspect had been detained — but did not release his name — and that an investigation has been launched. The official Xinhua News Agency said police identified the attacker as a 48-year-old unemployed man.
Local news outlets reported that one of the fatalities was a police officer and showed footage posted on social media depicting scenes of chaos with people lying on the street and crushed motorbikes. Some of the footage also purported to show police wrestling the attacker to the ground.
Euronews was unable to immediately verify the images.
A witness told the South China Morning Post newspaper that she "saw the bus crashing into cars and motorcycles, without breaking".
"A man with a knife came out and the police surrounded him and took him down," she added.