Yellow Vest protests lose bite as the French prepare for Christmas
Comments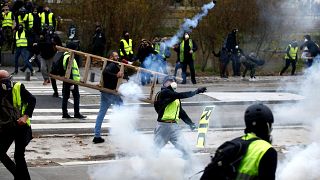 More sound and fury than the violence and destruction of recent weeks, the French Yellow Vest protesters were out again on Saturday.
Paris did see some close shaves. In one incident that went viral police officers had to escape a surging crowd after one felt he had to draw his sidearm to defend himself.
There was also widespread blockading of roads and roundabouts. St. Etienne and Rouen also saw large marches, but numbers were again down. Around the country 220 arrests were made, mostly in Paris, where the inevitable clashes were fewer and better-contained.
"We've realized that the number people coming onto the streets is down. There were less than 39,000 demonstrators this Saturday. That's half the number we saw in the November 17 demonstrations.
Nantes was another town where the Yellow Vests made a strong showing, blocking the centre until being cleared by the police, whose methods are increasingly coming under the spotlight.