Putin on marriage: 'As a decent man, I would probably have to do it one day'
Comments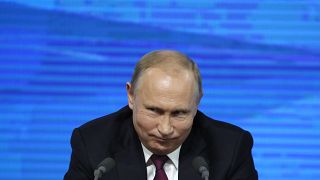 Vladimir Putin held his annual news conference today, and although many heavy political questions were on the agenda, one bold reporter went off piste.
He asked the notoriously private leader firstly if he was married and then enquired as to "who the chosen one" might be.
Putin divorced his wife of 30 years with whom he had two daughters in 2013. Since then, he has been linked to former Olympic-winning gymnast Alina Kabaeva — nearly 30 years his junior — but the relationships has never been confirmed.
As usual, Putin dodged the second question but said: "being a respectable person, I would probably have to do it (get married) one day."
He was also asked about his health. Putin is known for cultivating the image of a strong, fit, man releasing action-filled pictures of his holidays or his workouts. But he demurred on Thursday saying: "My health is like anyone else's."
"I keep doing sport and, thank God, I am fine. I try to take care of my health. However, in mid-season periods, flu might happen now and then," he added.
READ: 'Euronews isn't chirping on this': Putin hits out over Russian sailors
READ: Nuclear weapons, Crimea and Russophobia - what did we learn from Putin's Q and A?