Valeria Bruni-Tedeschi talks frankly about women in film
Comments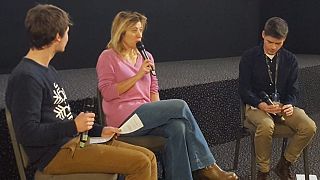 French-Italian actress and director, Valeria Bruni-Tedeschi, has talked to Euronews about the role of women in film, and how perceptions have changed.
She addressed the subject matter at the Les Arcs Film Festival where it was one of the event themes.
However, she said, in her opinion, women do not have challenges like they did before. She said that is her perspective because she has not had a negative experience.
"I feel maybe when I started with my first movie... that people were not very, they did not trust that an actress, a woman will do a movie. It was still apparent we were looked at a little bit like this. But not now, I think things changed and there are a lot of very big woman directors. I don't see it, I don't feel a difference," she said.
Bruni-Tedeschi also discussed the #MeToo movement but said she is not completely in the movement because she has not had a personal experience of it.
"It is difficult to explain that in English for me. I think it is a very good thing that this movement exists for all of the women in the world that are...who are in bad positions in their work because they have to accept something to still work. This is terrible," she said.
"But in the cinema, I will always have the feeling that if we don't want to go in the room hotel, we don't go in the room hotel. I have to say that because I want to respect all the women but if you don't want to go in the suite of The Ritz, you don't go," she said.
The sister of Carla Bruni was a guest of honour at the event.
Her 2013 film, A Castle in Italy, was nominated for the Palme d'Or at the 2013 Cannes Film Festival.
Her other credits include Oublie-moi, by Noémie Lvovsky, 5x2 by François Ozon, and Cockles and muscles by Olivier Ducastel and Jacques Martineau.
Her latest film, The Summer House, which she also directed, will be released in January. It tells the story of a family gathering in a beautiful mansion on the French Riviera, leaving their troubles behind. However, the holiday does not quite go to plan, as leading character Anna, played by Bruni-Tedeschi, must get over her break-up whilst trying to write a new film.
"I like to direct, I like to do my movies... it is a more adult position. I am not like a child waiting for the love of the parents like an actor is a little bit like a baby position. But I still have this desire of the baby actress..to work with the other directors. The desire is still here and I want to be an actress also but I have a big pleasure doing everything," she said.
Valeria Bruni-Tedeschi will also do a master class organised by the Lab about women's position in the cinema industry on Thursday 18 December in Les Arcs.