The Indian festival where theatre meets nature
Comments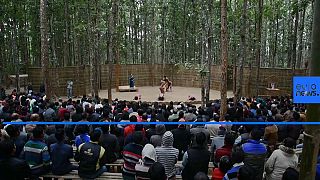 A theatre festival in a remote forest in India is still going strong after 10 years.
Founded in 2008, "Under the Sal Tree" attracts theatre troupes from Asia, Europe and the Americas.
Held in Assam state with no lights, mics or props, the festival takes theatre back to nature.
Among the audience was university professor Asha Kuthari Choudhury, who sang the praises of the event:
"This is an absolutely unique and a beautiful phenomenon. I hope very deeply - pray really - that this movement goes on. This is absolutely unique anywhere in the world. I don't think you'll find this kind of a performance space anywhere else in the world," she said.