No-deal Brexit: what would 'WTO terms' mean for UK-EU trade?
Comments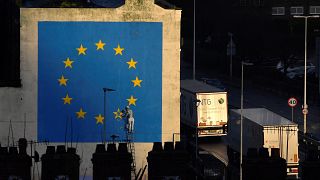 Copyright

REUTERS/Toby Melville
This article originally published in December 2018 has been updated to take account of the UK general election result in December 2019.
Following the British Conservative Party's emphatic victory in the general election in December, the UK is on course to leave the European Union on January 31, 2020. It will do so under the terms of the revised divorce deal Boris Johnson negotiated with the EU, as long as this is ratified by the British and European parliaments.
Throughout 2019, the fear for many on both sides of the English Channel was that the UK could "crash out" of the EU without an agreed deal on either the terms of the divorce or the future relationship. In such an event, legal arrangements covering many aspects of everyday life would abruptly cease to apply.
Although a "no deal" exit in January 2020 remains technically possible, the UK election result makes it unlikely. Once ratified, divorce agreement terms on issues such as citizens' rights will take legal effect.
However, another "cliff-edge" could soon loom over the horizon — on trade and future relations. A post-Brexit transition period, keeping most UK-EU arrangements as they are now, is due to expire on December 31, 2020. The Johnson government has ruled out extending it.
Unless a new trade deal can be struck with the EU by the end of 2020, then future trade between the UK and the EU will be done on world trade terms. The consequences have been the subject of fierce and acrimonious debate in the UK. Opponents have predicted cross-border disruption, higher prices and a shortage of essential goods.
The EU is the UK's largest trading partner, although its importance has been slightly declining. Official UK figures show that 44% of all UK exports went to the EU in 2017, while 53% of all UK imports came from the EU. As a bloc, EU countries sell more to the UK than vice-versa.
From EU rules to WTO rules
Under former Prime Minister Theresa May, the British government acknowledged that with no exit agreement in place, the EU would consider the UK "a third country for all purposes". It published details of its own no-deal preparations.
In the absence of a new agreement, trade rules would change from those of the European Union – based on its single market and customs union – to those of the World Trade Organisation (WTO).
WTO rules mean each member must grant the same market access to all other members – except developing countries and those that have free trade agreements. Trade experts agree that the EU could not treat the UK differently to other states: rules currently imposed on third countries would apply.
The impact of no deal for the UK would extend beyond its trade with the EU. At the moment Britain trades with the rest of the world as an EU member. Under "no deal", some 40 existing trade agreements fully or partly in place between the EU and dozens of countries would no longer apply to the UK.
Although some Brexit supporters claim many of these can be "rolled over", by autumn 2019 the British government had secured only around 15 such deals. These include agreements with Switzerland, Israel, several African and South American nations – but not those with big trading partners such as Japan, Canada and Turkey.
Tariffs would apply
The Confederation of British Industry (CBI) estimates that with no deal, 90% of the UK's goods exports to the EU by value would face tariffs. The average tariff on UK exports to the bloc would be 4.3 percent, it calculates, while the average on imports from the EU into the UK would be around 5.7 percent. Tariffs in some sectors – for example in agriculture and food, the car industry and textiles – would be "significantly higher".
Read more:
Britain says 88% of imports to face no tariffs in event of no-deal Brexit
UK zero-tariff plan for no-deal Brexit would not spare some EU imports
UK minister says no-deal Brexit would be 'seriously disruptive' for farmers
Brexit uncertainty hits UK fishing industry
Prospect of no-deal Brexit sparks concern among French fishermen
Non-tariff barriers: checks and regulations
"The free circulation of goods between the UK and EU would cease," says the UK government's no-deal advice to businesses.
It says there would be "immediate changes" to procedures for businesses trading with the EU — and the details make it clear they involve more bureaucracy. The papers reveal that UK companies exporting and importing to and from the bloc face a mass of new red tape — potentially devastating for smaller firms.
The advice goes on to say that trade under "third country" status would mean customs declarations, upfront VAT payments, and higher costs. Some firms may need export licences which could bring delays, or to employ customs brokers.
The UK would no longer be part of the EU system of mutual recognition. The government says the UK would continue to follow EU regulations in many areas – but firms would have to deal with new regulatory regimes, for instance for medicines. Pharmaceutical firms are advised to stockpile six weeks' supplies. New certification is needed in farming, leading to warnings that trade in organic food may effectively be suspended.
Read more: Is WTO Article 24 the antidote to a no-deal Brexit?
Warnings of trade disruption
The prospect of sudden barriers going up under no deal has brought warnings of chaos hitting UK ports, especially Dover, and surrounding areas.
Inside Dover: Europe's busiest ferry port prepares for Brexit

Calais carries out drills to prepare for Brexit disruption
The port of Antwerp readies for a 'hard Brexit'
UK-bound trucks risk being sent away at Rotterdam port after Brexit
Similar warnings of disruption have come from industries relying on "just-in-time" supplies of parts – such as the car industry – or the food and drink industry which relies on the efficient distribution of fresh produce.
Read more:
Hungarian exporter gears up for no-deal Brexit
'Brexit destroyed my business': The small business owners who left the UK
More than third of small UK companies fear no-deal Brexit hit - FSB
Easing trade flows
The British government under Theresa May said it had reached agreement to ease trade flows in the event of no-deal. By successfully negotiating continued membership of the Common Transit Convention (CTC) after Brexit, customs declarations will be made and import duties paid not at border points but at the final destination.
The news was welcomed by the UK Road Haulage Association, which warns however that "setting it up will take time and significant upskilling".
However, a UK parliamentary committee report in September 2018 said that CTC membership would not be enough to achieve "frictionless" trade. It would displace but not remove customs controls, and did nothing to address new regulatory barriers such as inspections.
The EU has dropped plans to limit quotas for road haulage permits that UK truckers would need on the continent. But the measure to allow access is temporary and conditional.
Services
The UK services industry makes up an estimated 80 percent of the country's economy. Whereas the EU sells more goods to the UK than it buys from Britain, the UK has a "trade surplus" in services, exporting more to the EU than it imports.
Latest figures show a large rise in activity between the UK and the EU. Half of the UK's trade in services in 2016 was with Europe, and most of that was with the EU.
A "hard Brexit" option under WTO rules offers only limited integration for services, and according to the UK Institute for Government many countries consider WTO rules do not address trade barriers sufficiently.
Banks and financial services firms are set to lose "passporting rights" enabling them to serve clients in the EU from the UK. Some UK companies have been moving operations to the continent.
Read more:
EU says bulk of UK financial sector would be cut off by no-deal Brexit
EU to act on derivatives clearing in case of no-deal Brexit
UK clearing houses approved to continue EU business under no-deal Brexit
EU insurance watchdog seeks to avoid Brexit no-deal disruption
Impact on the European Union
The United Kingdom was the European Union's second largest economy in 2016, according to Eurostat, accounting for 16 percent of its GDP, as much as the 19 smallest EU countries put together.
The UK accounts for about 13% of the EU's trade in goods and services, according to the International Monetary Fund. The IMF has warned that economic growth across the remaining 27 EU states would fall by up to 1.5 percent in the long run and employment would fall by 0.7 percent, if the UK fell back on WTO rules to trade with the bloc after Brexit.
The European Commission has updated its contingency plans for a "no deal" Brexit. Far from envisaging the sort of "managed no-deal" that some in Britain are calling for, it sets out a series of basic arrangements to limit disruption.
No deal – better than a bad deal?
The revised Withdrawal Agreement and Political Declaration on future ties, negotiated by London and Brussels, need the approval of both the British and European parliaments. Otherwise the agreed measures – including the transition period after Brexit – will not apply.
But the debate over a future "no deal scenario" is likely to be revived during trade negotiations, even in the event of a smooth UK departure from the EU with a divorce deal.
Theresa May's mantra, that "no deal is better than a bad deal", was seized upon by Brexiteers who argued in favour of leaving the EU without an agreement. They are at ease with the idea of trading on WTO terms, saying that a clean break with EU rules would open up new opportunities, enabling the UK to boost trade with the rest of the world.
Opponents argue that such opportunities exist already – and that "no deal" would harm not only trade, but destroy 45 years of smooth arrangements between the UK and the continent. They say it would bring severe economic damage, legal chaos, and wreck Britain's international credibility.
Read also:
Brexit Guide: where are we now?
What would a no-deal Brexit mean for citizens' rights?