Watch: Lorries topple over on Scotland-bound ferry amid 'extreme weather'
Comments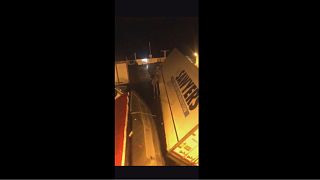 Several lorries toppled over aboard a P&O ferry travelling between Scotland and Northern Ireland early on Tuesday morning amid "extreme weather conditions".
Scotland Police confirmed the incident in a statement on Twitter, saying all passengers and crew were safe and that there was no-one injured.
"Shortly after 7.40am, a number of vehicles overturned on the P&O Ferry while sailing from Larne to Cairnryan," a Scottish Police statement said.
"Emergency services attended. The ferry docked safely. Six vehicles tipped over onto their side."
The Met Office issued a yellow wind warning across Northern Ireland for Tuesday morning, with further alerts for "wet and windy weather" across western Scotland.
P&O Ferries confirmed on Twitter that routes between Larne and Cairnryan had been suspended due to "extreme weather conditions" and warned passengers to expect long delays.
Dramatic video shared by passengers aboard the ferry during the incident shows several lorries tipped over and leaning on each other.
Niall Mcerlean, who captured one of the videos, confirmed everyone was safe and said he was "just glad to be back on land," in a conversation with Euronews.
Another passenger, Dave Thorpe, posted a video of a lorry driver preparing his vehicle just before he boarded the ferry, sharing his predictions of a "bumpy crossing."
But shortly after the incident, Thorpe posted a fresh update to Facebook, saying he didn't think he would be able to complete his scheduled deliveries on Tuesday.
"If I was on the deck, I would have been able to touch the water it leaned that bad," Thorpe said to a friend in the Facebook comments.
Speaking of his company lorries aboard the ferry, he added, "questions will be asked and lots of compensation to be paid."
"Eight of my company's trucks stranded on this ferry, somebody has to pay for the missed deliveries of perishable food."