'Unprecedented levels' of violence against journalists in 2018, watchdog warns
Comments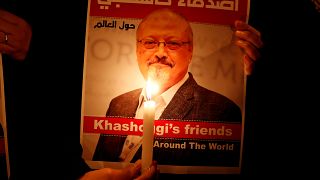 -
Copyright

REUTERS/Osman Orsal/File Photo
"Unscrupulous politicians" and social media platforms bear responsibility for an increase of violence against journalists, a press freedom watchdog said on Tuesday.
Eighty journalists were killed so far this year, 348 are in prison and 60 are being held hostage, according to Reporters Sans Frontieres (RSF) which produces an annual round-up of violations against media professionals.
The Paris-based watchdog highlighted that all the figures have increased on the year and said that half of the journalists killed were deliberately targeted.
It added that the brutal murders of Saudi columnist Jamal Khashoggi and Slovak data journalist Jan Kuciak show "the lengths to which press freedom's enemies are prepared to go."
Christophe Deloire, the RSF Secretary General, said in the report that "violence against journalists has reached unprecedented levels this year, and the situation is now critical.
"The hatred of journalists that is voiced, and sometimes very openly proclaimed, by unscrupulous politicians, religious leaders and businessmen has tragic consequences on the ground, and has been reflected in this disturbing increase in violations against journalists.
"Amplified by social networks, which bear heavy responsibility in this regard, these expressions of hatred legitimise violence, thereby undermining journalism, and democracy itself, a bit more every day," he added.
The number of journalists killed increased by 8% on the year to reach 80 while the number of professional journalists killed rose from 55 in 2017 to 63 this year — a 15% increase.
Afghanistan was found to be the deadliest country for journalists with 15 killed this year. It was followed by Syria, where 11 lost their lives.
With nine journalists killed on its soil, Mexico was declared the deadliest country outside a conflict zone. Its northern neighbour, the US, also joined the ranks of the deadliest countries after six journalists died in 2018.
Four of them were among the five Capital Gazette employees killed when a gunman opened fire at the newspaper's premises in Annapolis, Maryland.
More than half of the world's 348 imprisoned journalists are detained in China, Iran, Saudi Arabia, Egypt and Turkey, according to RSF.
China is the world's biggest jailer of journalists with 60 currently locked up there, of whom three quarters are non-professional journalists.
Middle Eastern countries — Syria, Iraq and Yemen — are also where all but one of the journalists held hostage are detained.