Italian journalists protest after repeated insults by deputy prime minister
Comments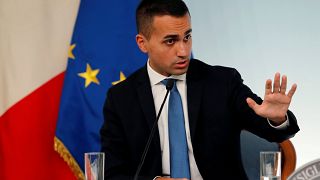 Copyright

REUTERS/Remo Casilli/File Photo

-
Italian journalists took part in flash mobs across the country on Tuesday to denounce the "insults and threats" against them by leading politicians.
The protests were called by the country's two main press unions, FNSI and Usigrai, after Luigi Di Maio, the country's deputy prime minister and the leader of the anti-establishment Five Star Movement (MS5), called journalists "the lowest of jackals" and "prostitutes" over the weekend.
Di Maio made the comment after Rome's MS5 mayor, Virginia Raggi, was acquitted in a corruption case. 
"The real scourge of this country is the vast majority of the intellectually- and morally-corrupt media," he wrote on Facebook, accusing journalists of trying to take down Raggi.
He also vowed to introduce new regulation to cut media funding and punish so-called "impure media owners."
Also taking to Facebook was MS5 parlamentarian Alessandro Di Battista, who described journalists as "whores."
The comments sparked fury among journalists and led the two main unions to organise flash mobs in several cities including Rome, Milan, Genoa, Bologna, Turin and Venice, under the slogan "Hands off the information."
The aim of the campaign is to "defend freedom of the press and counter the drift of language in politics with insults and threats made towards those who every day carry out their duty to inform citizens," the FNSI said in a statement.
The European Federation of Journalists offered support to their Italian colleagues and organised flash mobs in Brussels and London.
Italy ranks as among the worst in Europe for freedom of the press, according to Reporters Without Borders,
The non-profit organisation says violence against Italian journalists is growing — in part due to organised crime, such as the mafia. But it also warns that "journalists increasingly opt to censor themselves because of the pressure of politicians."