The Simpsons celebrate 30 years at the top of the Empire State Building
Comments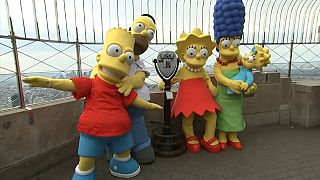 'The Simpsons' took celebrating their 30th anniversary to new heights when members of the cast, characters and crew went to the top of the Empire State Building on Monday.
"Epic building. Epic show," said Nancy Cartwright, the voice of Bart Simpson and other characters on the show. "Can I believe it's lasted this long? Yes, I can. Yeah. We're amazing. And quite humble."
Alongside Cartwright at the celebration was the show's executive producer, Mike Scully, Pamela Hayden, who provides various voices including Milhouse Van Houten, writer Stephanie Gillis and costumed characters representing Homer Simpson and the gang. The Empire State Building was lit yellow in honor of the show.
The 30 years "The Simpsons" have spent on television make it the longest-running scripted show in television history. With 33 Emmy Awards, it's safe to say the show has had a strong run since its debut in 1989.