Raw Politics in full: Hungary protests, gender inequality and Brexit
Comments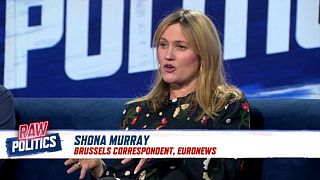 On Raw Politics this Tuesday:
Anti-government protests continue in Hungary
Protests that were sparked by the 'slave law' in Hungary are continuing.
It comes after two opposition MPs were removed from the offices of public broadcaster MTVA after demanding their petition be read on air.
Corbyn tables no-confidence motion against May
Labour leader Jeremy Corbyn tabled a motion of no-confidence against UK Prime Minister Theresa May on Monday night after the delay of the meaningful vote.
May confirmed that debate will resume on the draft deal in early January.
Two centuries 'to close the workplace gender gap'
It could take more than 200 years for the workplace gender gap to be eliminated, a report by the World Economic Forum revealed.
Iceland has the smallest gender inequality gap in Europe whilst Greece, Malta and Cyprus fall to the bottom of the rankings.