Japanese doll collectors gather for festival
Comments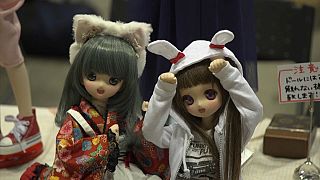 Japan is a nation obsessed with dolls, and the Dolls Party Festival in Ariake is a magnet for collectors.
Thousands of fans come to see the latest lines, and to indulge their passion for dolls.
Japanese dolls have a rich history. Originally known as "ningyo", they date back to the Jomon period (10,500 BC to about 300 BC).
Dolls were often represented as gods, and used in rituals.
Japan's first commercially produced doll, with movable joints, was created by Volks, the company that runs the annual Dolls Party Festival.
This year marks the 40th anniversary of the Dolls Party Festival and the 20th anniversary of their most popular doll, known as the "Dollfie".