Watch: France's Days of Rage - documentary on the 'gilets jaunes' movement
Comments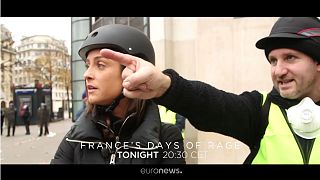 Euronews' Paris correspondent Anelise Borges has spent seven days with the movement that has shaken France to its core.
You can watch her documentary on the "gilets jaunes" ("yellow vests") in the video player, above.
Entitled "France's Days Of Rage", it looks at what the protesters want and how far they are prepared to go to get it.
The protest was originally about rising fuel taxes but has since snowballed into demonstrations about rising living costs.
In a televised address on Monday, Macron announced wage rises for the poorest workers and tax cuts for pensioners in further concessions meant to end the movement, but many said they would maintain pressure.
The government, as well as several unions and opposition politicians, had called on protesters to stay off the streets last weekend after four people were killed in a gun attack at a Christmas market in the historic city of Strasbourg.
There were still demonstrations but fewer people turned out.