European filmmakers compete for funding in Les Arcs as investors look for new talent
Comments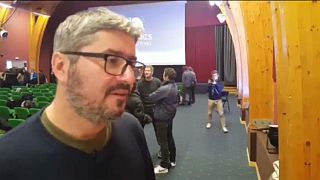 Fifteen European films in post-production pitched their projects to sales agents, festival programmers, distributors, and those looking to invest, at the Les Arcs Film Festival yesterday.
The films, selected by the Artistic Director of the festival, Frédéric Boyer, were among more than 130 submitted projects, and came from 33 different European countries.
Excerpts of those shortlisted were screened in front of Industry professionals on Sunday morning in Les Arcs.
Euronews spoke to Marian Crișan at the screenings. He is the creator of BERLINER, one of the films shortlisted, produced by Rova Film in Romania.
"The film was shot in west Romania, in a part of my hometown, it's near the border with Hungary. So I really connected to this place because it's where I am from, I know people there and I wanted to bring the character from Bucharest to unknown land," he said.
The film tells the story of a politician who gets stranded in a little border town.
"It is a place where nothing happens, and this stranger coming to town is somehow dealing with common people there," he explained.
"I notice that we talk a lot about politics in our daily life and when we meet but we don't really see politicians on screen and in cinema, it is something you don't really explore in cinema, I think, and there are countries where the media doesn't speak really sincere about politicians so I was intrigued to have a character, like a politician, and to see him differently, not like you see the politicians on TV, like in Parliament, in suits. I wanted to see him in pyjamas, in his daily life, how he can relate to real people, to the common people," he said.
Crișan said he hopes people will come away, after watching the film, being more aware that politics can really change their life, even though the gap between politicians and the people is getting bigger, "we have to see them as people," he said.
The festival makes films like BERLINER more visible, giving them a platform to showcase their work to a mix of industry professionals.
The other selected projects competing in the 'Work in Progress' section are:
AND THEN WE DANCED by Levan Akin, produced by French Quarter Film (Sweden), Takes Film (Georgia)

ATLAS by Niccolò Castelli, produced by Imagofilm Lugano (Switzerland), Climax (Belgium) 2012 – Tutti Giù, selected at Locarno IFF, winner of Best Feature Film at Filmfestival Kitzbuehel

BIRDS by Babis Makridis, produced by Neda Film (Greece) for the Onassis Foundation

HALF-SISTER by Damjan Kozole, produced by Vertigo (Slovenia), Film House Bas Celik (Serbia), Propeler Film (Hungary), Sister And Brother Mitevski Production (Macedonia)

HIDE AND SEEK by Victoria Fiore, produced by My Accomplice (United Kingdom), Bronx Film (Italy)

HOMELESS by Xesc Cabot & Pep Garrido, produced by Alhena Production (Spain), Atiende Films (Spain)

INTERIOR by Marek Lechki, produced by Telemark (Poland), Heliograf (Poland), Kineskop (Poland), Monternia (Poland), Toof (Poland)

SYSTEM CRASHER by Nora Fingscheidt, produced by Weydemann Bros. Gmbh (Germany), Kineo Filmproduktion (Germany), Oma Inge Film (Germany)

THE CASTLE by Lina Lužytė, produced by Artbox (Lithuania), Samson Films (Ireland)

THE DISCIPLE by Ivan Ostrochovský, produced by Punkchart Films (Slovakia), Film & Music Entertainment (Ireland), Negativ Ltd. Film Productions (Czech Republic), Point Film (Romania)

THE LAST ONES by Veiko Õunpuu, produced by Homeless Bob Production (Estonia), Bufo (Finland), PRPL (Netherlands)

VARIATIONS by João Maia, produced by David & Golias (Portugal)

WHITE ON WHITE by Theo Court, produced by El Viaje Films (Spain), Pomme Hurlante Films (France), Kundschafter Films (Germany), Don Quijote Films (Chile)

WILLOW by Milcho Manchevski, produced by Banana Film (Macedonia), Pioneer Pictures (Hungary), Saga Film (Belgium), Tirana Film Institute (Albania)
The award ceremony for this category will take place tonight.