Yellow Vest protest: the clean up
Comments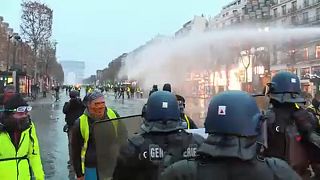 Paris was getting back to what it does so well on Sunday after another Saturday of protests by the Gilets Jaunes, or yellow vests.
The visitors were back and the wooden boards were coming off the windows of the shops. Although the number of demonstrators was down the businesses had taken no chances after the violence of recent weeks.
There were still scuffles with police in the capital and other cities and authorities estimate the protesters numbered around 66,000. Half the amount of the previous week but still substantial.
Tear gas was once again used on some groups of demonstrators and 179 were arrested in Paris. It's hard to know what effect if any, President Macron's concessions had on the numbers, as well as the plea by the government to desist in the wake of the Strasbourg shootings.
Elsewhere the yellow vests were in sense going back to their roots by blocking roads. Those protests were much more peaceful but still determined, and disruptive.