Cold War is the big winner at the European Film Awards in Seville
Comments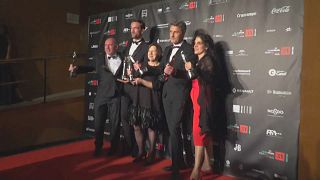 "Cold War" by Polish film director Paweł Pawlikowski was the Big Winner at the European Film Awards on Saturday night – taking five top prizes in Seville.
The love story set in post war europe and shot in black and white won the awards for best film, best director, best screenwriter, best actress for Joanna Kulig and best editing.
"It's about European destiny, a very European sensibility and history that crushes people but sometimes brings out what is best in people – it's a very European film I suppose," said Pawlikowski.
The best actor award went to Italian actor Marcello Fonte, who plays a dog groomer in Matteo Garrone's movie "Dogman".
Fonte also won the Best Actor Award at Cannes for his performance.
"It was three months of preparation," he told Euronews. "I worked for 3 months in a beauty salon for dogs, washing dogs from 9 in the morning until 7 o'clock in the evening to understand the stress and work of being a dog groomer."
The Seville ceremony was the 31st edition of the European Film Awards.