Trump appoints Mick Mulvaney as temporary Chief of Staff
Comments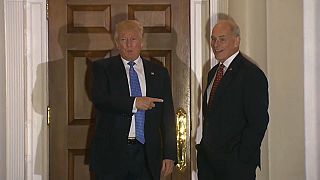 U.S. President Donald Trump has announced that his budget chief Mick Mulvaney will temporarily take on the role of White House chief of staff.
His appointment comes after two prominent candidates withdrew their applications for the post in the space of a week. As ever Trump took to Twitter to comment on the move, calling Mulvaney a great patriot and thanking him personally for his service.
Mick Mulvaney has a reputation as a hard-charging conservative. He's politically experienced as a former congressman and he heads the White House Office of Management and Budget.
He takes over from John Kelly, a retired Marine Corps general who will step down from the top job in the West Wing in January. Mulvaney is the third man in Trump's two years in office to take on the role. It's seen as one of the most important jobs in Washington. He'll be tasked with finding the resources necessary to carry out the president's priorities.