Strasbourg shooting: Fourth victim identified as Italian journalist student Antonio Megalizzi
Comments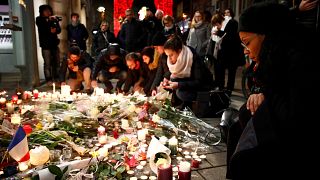 A fourth person has died as a result of the Strasbourg shootings, the Paris prosecutor has announced.
"The person had been fighting for their life," an official in the prosecutor's office said.
The fourth victim has been identified as 28-year-old Italian journalist Antonio Megalizzi, who was in Strasbourg to cover the European Parliament plenary session for radio network Europhonica. 
Europhonica confirmed Megalizzi's death on its Facebook page.
Megalizzi had been kept in a pharmacologically-induced coma after being shot by the attacker and a bullet lodged at the base of his skull
At a news conference following an EU Summit, Italian Prime Minister Giuseppe Conte said his thoughts were with the victims family. 
"This news has greatly saddened me. It hit us hard. I greeted (French) President (Emmanuel) Macron with a hug because of this vile attack and the news about Antonio Megalizzi really saddened me; this lad who studied at Trento and was finishing his Masters (degree). He had a passion for your work, for journalism, for the radio. He was working on very interesting projects and he also had a passion for Europe because he studied European institutions. In this moment my thoughts and great affection go to his girlfriend and family and we must all be united in this pain."
Twelve other people were injured, four of those were still hospitalised as of Friday morning, said the prosecutor.
A man believed to be Cherif Chekatt, 29, was shot and killed by police on Thursday evening, two days after the attack. He was spotted leaving a building in the Neudorf area of the city, where he lived. After firing on police, he was killed as they responded.
He had a long history of crime, both in France and in neighbouring Switzerland and Germany. Radicalised in prison in 2015, he had been monitored as a potential terrorist threat by France's security services.
Strasbourg reopened its Christmas market on Friday under heavy security measures.