Hungary's 'slave law': third consecutive day of protests over labour reforms
Comments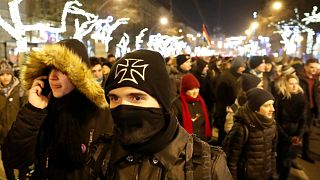 Demonstrators took to the streets of Budapest for a third consecutive day on Friday.
They are protesting new legislation dubbed the "slave law", which allows employers to ask staff to work up to 400 extra hours per year of overtime, instead of the current 250.
It could amount to another eight hours a week for some workers, equivalent to an extra working day.
The legislation was pushed through by Prime Minister Viktor Orban's ruling Fidesz party on Wednesday, sparking the protests.
Some people have also been angered by a new law passed on the same day to set up courts overseen directly by the justice minister.
This Twitter user took video of what she said were "thousands" gathered in front of the parliament building in Budapest on Friday.