Raw Politics: MEPs share their stories of Strasbourg attack
Comments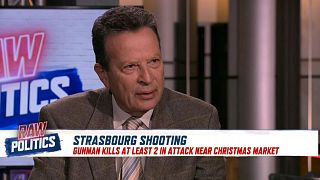 Members of the European Parliament shared their tales from the shooting in Strasbourg on Tuesday.
Georgios Kyrtsos, a Greek EPP MEP, told Raw Politics host Tesa Arcilla, who was also in Strasbourg at the time of the attack, what he experienced.
Listen to what he said in the video, above.
At least two people were killed and one was left brain dead after a gunman opened fire in the centre of the city, Rémy Heitz, France's anti-terror prosecutor said.
The minister also announced that the country's "Vigipirate" security threat level would be raised.
The European Parliament in Strasbourg, situated a few kilometres from where the attack took place, was put on lockdown during the night.
Other MEPs took to social media to share that they were safe, with some sharing that they were barricaded in establishments across the city, like Italian MEP Michela Giuffrida who said she was locked inside a pub near the location of the shooting.