German street turns into scene from Charlie and the Chocolate Factory after spill
Comments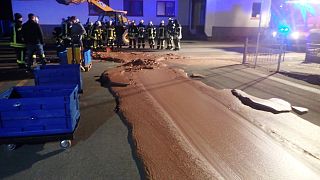 It looked like a scene from Charlie and the Chocolate Factory.
A small town near Dortmund in North Rhine-Westphalia had a "river" of chocolate after a ton of the sweet stuff overflowed from a local factory on Monday night.
The liquid chocolate leaked from the DreiMeister chocolate factory onto the streets of Westonnen, a suburb of Werl, after a "technical defect" said a statement from the city's fire department.
The fire brigade worked several hours removing the solid chocolate from the street with hot water and blowtorches.
"We took the whole thing up with shovels," the head of the local volunteer fire brigade told DPA.
"Despite this heartbreaking incident, it is unlikely that a chocolate-free Christmas is imminent in Werl," said the statement.