Climate change could wipe out black truffles, claim UK researchers
Comments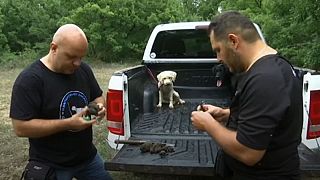 -
Black truffles, revered by top chefs and sold at up to £1,000 (€1110) a kilogram, could die out due to climate change, according to a report by UK scientists.
Researchers at the University of Stirling warn the fungus – which is currently in season and a Christmas favourite – could be all but wiped out by the end of the century because of drought and higher temperatures.
Their study says the truffle industry, currently worth millions, could grow to £4.5 billion over the next two decades as demand outstrips supply and prices rise correspondingly.
Black truffles, also known as tuber melanosporum, are mycorrhizal, meaning they grow within the roots of existing plants in a mutually beneficial relationship where the host tree delivers sugars and the truffle provides nutrients.
Conditions have to be perfect for the fussy truffle to flourish and a crop can take years to yield. When it does, truffle hunters rely on pigs and dogs to sniff them out from underground, driven by the extraordinary profits and the unique scent respectively, in an industry shrouded in secrecy and notoriously territorial.
Lead author of Stirling University's report, Dr Paul Thomas, said: "For this winter truffle, the critical period for it is the summer months. The truffle starts to form at the end of winter, beginning of spring and then it grows very slowly over the summer months and it's growing and swelling. Then it matures when you come into the next winter and that's when we harvest and eat them.
"Because it's growing and swelling over those summer months, it needs good levels of soil moisture to be able to do that. And under climate change … what we see actually in years where it's very warm and very dry, that stops those truffle bodies from growing and swelling. So you don't get production. So under these climate change models we are going to see a lot less soil moisture, a lot less precipitation and higher temperatures."
Thomas's team studied records spanning 36 years of Mediterranean truffle yield in France, Spain and Italy, then combined the results with climate model projections to predict the likely impact on truffle yields.
Thomas says: "We looked at two climate change models. We looked at the most likely one and then we looked at one which is a nicer scenario. It's less warming and it's less drying. Between the two scenarios they were still looking at a decline of production of between 78 and 100% of the yield of that territory. So it's a massive drop."
The team found there could be enclaves of surviving truffle growth in a few microclimates where it's particularly wet or cold – but these will be insignificant in industrial terms. Although the fact that the black truffle was cultivated successfully in the UK for the first time last year could offer a ray of hope for its future, to a limited degree.
Dr Thomas said: "So if we see this decline in Europe of production – if we want to try and save some level of production, we're not going to be able to recreate that amount that's growing in Europe.
"France plants 400,000 truffle trees every single year. That's enough to keep the production static. If we start growing in the UK and other fringe countries, there's no way we can put down enough trees and cover enough ground to replace what's unfortunately probably going to be lost in Europe."
In Spain, where 25% of the world's truffles are grown, in the Teruel region, scientists have set up nurseries to create Mycorrhizal Oaks which are expected to produce truffles in years to come, but not if the growing conditions deteriorate.
In bad news for truffle fans hoping to enjoy them while they still can, Thomas added: "Prices are for sure going to increase, as supply declines prices increase. And we saw this in 2004, we had a very, very dry period in Europe and black truffle prices reached about £2,000 (€2,223) a kilogram, which at the time was well over double what they're normally worth. And we see in drought years and years when we have very high temperatures, there's less supply and the prices just increase. So that's going to continue to happen. I'm sure they're going to get very, very expensive going forward."