Watch: Romania's anti-corruption activists mark a year of consecutive protests
Comments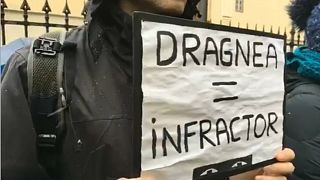 It's the perfect antidote to the huge anti-government protests that have rocked the Romanian capital Bucharest in recent years.
More than two-hundred kilometres away in Sibiu, Transylvania, there have also been demonstrations against the ruling Social Democrat Party (PSD).
But in smaller Sibiu what they lack for in terms of numbers, they make up for in sheer persistence.
They have now — as of Tuesday, December 11 — held silent protests outside the PSD's local branch for 365 consecutive days.
Despite snowy conditions, dozens of people gathered in the familiar spot at midday on Tuesday, marking the first anniversary of the daily protest.
To differentiate from other days, Tuesday's protest was due to be held over 12 hours.
The following video was broadcast live to Facebook from the protest. Demonstrators are seen lining up silently outside the PSD headquarters in Sibiu, before breaking into a rendition of Queen's We Will Rock You.
We'll See You From Sibiu, the Facebook group that organises the protests, said that while it would like to consider the anniversary a celebration, the year-long protest was more in line with a revolution.
The widespread protests, including the silent demonstration in Sibiu, have been held across Romania in response to the government's alleged support of decriminalising some corruption-related offences.
READ: Deafening silence - Romanian protesters keep quiet to make their point
One of the protest organisers, Radu Vancu, posted to Facebook ahead of the anniversary protest on Tuesday and spoke of how the support for the protest had grown.
"We've gathered today to see how much we've stayed," he wrote. "We gather to see how much we have multiplied."
"And today, at Agora, we'll try to see what we've done, and what else to do."
Protester Rares Helici also reflected on the year of demonstrating, and how he passed the time in silence.
"A handful of people make some kind of team building patience," he said. "When I go over there and surprise them in their magical silence, a lot of people ask me what I listen to in my headphones," adding that his musical choices stretch from Pink Floyd to Rod Stewart, depending on the weather.