Is there any room for manoeuvre on May's Brexit deal? | Raw Politics
Comments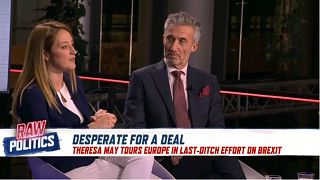 As British Prime Minister Theresa May heads off to meet various European leaders in a last-ditch attempt to save her Brexit deal, the Raw Politics panel discussed whether there is any room for manoeuvre.
Maltese MEP Roberta Metsola said that while she admired May's "dogged determination" to push the deal through, she thought it would be "extremely difficult" to reopen negotiations.
But Danish MEP Morten Lokkegard was more direct: "This is not a game. We have negotiated for months, intensively. This is a legal document of 585 pages. You do not reopen a thing like this."
However, both panellists agreed that the UK may receive more clarification around the Irish backstop element of the deal.
"We have to make sure and send a message that we will protect Ireland and make sure it is not isolated at all costs," Metsola said.
Find out what else the Raw Politics panel had to say on May's whistlestop tour around Europe by clicking the player above.