Macron to address nation after another weekend of violent protests
Comments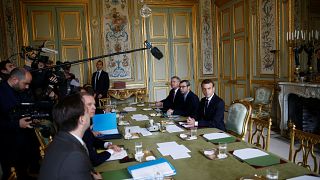 French President Emmanuel Macron is set to address the nation later today, after another weekend of violent protests.
More than a thousand people were taken into custody on Saturday after windows were smashed, shops looted and cars burned in the French capital.
Macron is meeting trade unions and employers' organisations this morning in an effort to appease the protesters.
"I think it is not so much the words - it is the emotion. I think that Emmanuel Macron has to change his style and manner, which is probably the most difficult achievement," Christine Ockrent, journalist and commentator told Good Morning Europe.
Ockrent believes that it is not the concrete announcement that will "satisfy most."
"He has to show that he sympathizes, that he understands not only with his brain - everybody knows that he is remarkable on that score - but that he understands in his very fibre what these people are yelling about, beyond the words."
The "Yellow vest" movement started in November over fuel tax hikes, but they have become a wider reproach against Macron.
President Macron will address the country this evening at 8 p.m. CET.